Randolph Hester

May 2010 Honorary Degree Recipient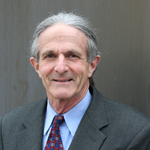 Doctor of Laws (honoris causa)
Is a city simply a collection of roads and buildings? Hardly. At their best, cities inspire. They provide us the shared space to work, play and collaborate with one another. The design of our cities should empower us as individuals, as citizens and as environmental stewards. However, all too often the focus on roads and buildings gets in the way of these more important objectives. Rather than inspiring us, our cities inhibit us. Randolph Hester – teacher, planner and activist – has made it his life's mission to prevent that from happening.
A passionate advocate for the integration of ecology in urban planning, Dr. Hester also believes in urban design as a cornerstone of civic engagement. In the process of building cities, he argues, we've forgotten about building community, and it's through integrating democracy and ecology that we restore that balance. With more than 200 articles and nearly 100 built projects to his name, Dr. Hester's body of community design work is among the most heralded of the modern era, establishing him as one of the world's leading visionaries for the sustainable, inspirational city of the future. Today, we honour and celebrate that vision.
Dr. Hester is Professor of Landscape Architecture and Environmental Planning at the University of California, Berkeley, and partner at his firm, Community Development by Design. His academic career is distinguished, taking him from studies at Harvard to teaching positions at North Carolina State and Pennsylvania State universities. Dr. Hester brings a wide range of experiences to the urban challenges he confronts. It's as if he's a naturalist, a sociologist, an artist, a designer and a community organizer – all at the same time.
Randolph Hester was the first to apply social research in the design of urban landscapes and invented many of the most used participatory design methods, invoking lessons learned from his time as a city councilman in Raleigh, North Carolina, in the 1970s. There, he established a citywide citizen participation program that became the basis of the city's comprehensive plan, one that created a uniquely African-American landscape in the city, rectifying past class and racial discrimination in public facilities. He also organized a grassroots alternative, low-cost transportation plan for the city and fought to stop freeways from being built through poorer neighbourhoods.
Many of his urban plans in the years since have become landmark standards in the field. He's worked with the Santa Monica Mountains Conservancy for 20 years, implementing a  visionary plan for an urban wilderness greenbelt around and into Los Angeles. His community plan for Manteo, North Carolina, has attracted cultural tourism to provide much-needed jobs while preserving the city's sacred structure. His work with National Taiwan University and SAVE International, an organization he co-founded, created viable alternatives to a proposed petrochemical plant in a rural fishing district of Tainan County, protecting a way of life for the community and the habitat of the black-faced spoonbill, one of the rarest birds in the world.
Dr. Hester has several notable books to his credit. His 2006 publication – Design for Ecological Democracy – reads as both the culmination of a life's work and a blueprint for the 21st century urban environment. Honored with the Paul Davidoff Award, the book makes a passionate and persuasive case for creating spaces that are both socially meaningful and ecologically resilient. In it, Dr. Hester writes: "Together – and only when integrated – ecology and democracy provide the foundation for making informed choices and better cities and for discovering more fulfilling lives. The union of ecology and democracy is essential for making a sustainable future and providing us with greater happiness."
Dr. Hester's nomination for an Honorary Degree came from our Faculty of Architecture and Planning. In 2008, Dr. Hester was a guest of the Faculty as part of a Killam Lecture Series entitled Resilient Communities. Not only was his talk inspiring, he went far beyond the call of duty and stayed on campus for the entire week, participating fully and actively in a student-organized School of Planning conference. He sat in on studio presentations, joined a panel discussion, judged a design charrette, and engaged students and faculty in lively exchanges. His generosity of time, energy and spirit has not been forgotten.
In nominating Dr. Hester, faculty members wrote: "Randy Hester represents the pinnacle of achievement in landscape architecture and environmental planning. He embodies and practices the philosophy of social and environmental responsibility that we teach in our programs and that we share with our students. He has inspired several generations of community designers to find approaches that simultaneously ensure social responsibility, local democracy and ecological resilience."
In celebration of that inspiration, I ask you, Mr. Chancellor, in the name of the Senate, to bestow upon Randolph Hester the degree of Doctor of Laws, honoris causa.