Murray B. Koffler

May 2010 Honorary Degree Recipient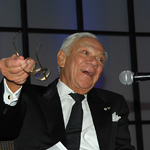 Doctor of Laws (honoris causa)
Like many fathers, Leon Koffler passed along a simple but invaluable message to his son, Murray: "Treat people the way you would want to be treated." We hear that familiar adage all the time, but few heeded the advice with the same passion as Murray Koffler. Though he's a co-founder of the Four Seasons Hotels and Resorts, Mr. Koffler is best known as the man behind the hugely successful Shoppers Drug Mart chain. His lifelong adherence to his father's advice led him to become one of Canada's most successful businessmen and philanthropists.
When Leon Koffler died suddenly in 1941, Murray's mother urged him to study pharmacy and to run the family's two drugstores in Toronto. After completing studies at the University of Toronto, Murray took over operations of the family stores and worked quickly to expand the business. It was in 1962, though, that Mr. Koffler truly revolutionized the retail drug industry. He introduced self-serve shopping in his newly-named Shoppers Drug Mart in east Toronto. Up to this time, drug store shoppers had to speak with a pharmacist to purchase any product -- from toothpaste to bandages. Mr. Koffler turned drug store shopping on its head with a new focus on self-serve, prescription service and health aids. The results were impressive – business tripled.  Next, he introduced store associates to the industry -- Shoppers Drug Marts that were owned by other pharmacists but still a part of the Shoppers family. His business savvy led to huge success. By the 1970s, Shoppers had 300 locations across Canada. When the business sold in 1978, it was worth about $70 million.
Mr. Koffler stayed on as Shoppers' chairman and, later, honorary chair.  In 2007, when Shoppers opened its 1,000th store, he said the most significant accomplishment was that every store still approached customer service the same way as when he entered the drugstore business almost seven decades earlier – "personally, professionally and with a true commitment to every person that walks through the door."
As much as Mr. Koffler's commitment to people infused his business sense, it also defined his sense of community responsibility. Consider, for example, the day in 1968, when he heard that a "drug-crazed youth" was suspected of shooting Robert F. Kennedy. At the time, Koffler was hosting a meeting of 300 pharmaceutical suppliers. He made an impassioned plea for Canadian drug manufacturers to take a lead role in preventing illegal drug use among youth. As a result, the Council on Drug Abuse was born. The council's preventative drug education programs have reached thousands of Canadian students, teachers, parents and health professionals.
Consider, also, the day in the early 1980s when Mr. Koffler witnessed a homeless Aboriginal family living on a work site of a future Four Seasons Hotel, and later saw a young Aboriginal boy escorted from a Shoppers Drug Mart on suspicion of theft. Driven again by his commitment to the well-being of others, Murray assembled leaders in government, business and the Aboriginal community and asked them one question – "Is there a role for Canadian business to play in the economic development of Canada's native people?" He believed there was. Shortly after, he founded the Canadian Council for Aboriginal Business, offering knowledge, resources and programs to increase employment and create economic opportunities for Aboriginal people, businesses and communities across Canada.
Mr. Koffler has been extremely active in supporting Canadian Jewish communities. He is a founder of Temple Emanu-El in Toronto, the Foundation for Ecological Action in Israel, and the Tel Aviv Foundation in Canada.  He's been a chairman of the United Jewish Appeal of Toronto, the Canada-Israel Cultural Foundation, and the International Board of Governors of the Weizmann Institute of Science in Israel.
To call Mr. Koffler a generous philanthropist is a vast understatement. He has supported numerous initiatives and academic chairs at the Weizmann Institute of Science in Israel, the University of Toronto, Mount Sinai Hospital and Temple Emanu-El School.
It is not surprising, then, that Mr. Koffler has received countless honours, including the Order of Canada, the Outstanding Philanthropist Award from the National Society of Fundraising Executives, the YAKIR Award from the State of Israel, a Humanitarian Award from the Israel Cancer Research Fund, and a Lifetime Achievement Award from the North York Chamber of Commerce – to name just a few.
Today, it is our pleasure to honour Murray Koffler. He has shown all of us that incredible things can happen when we really do treat others as we would want to be treated.
For his legacy of business success, of generosity and leadership in his community and his country, I ask you, Mr. Chancellor, on behalf of Senate, to bestow upon Murray Koffler the degree of Doctor of Laws, honoris causa.