Charles Embree

May 2010 Honorary Degree Recipient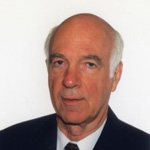 Doctor of Laws (honoris causa)
Charles Embree has been serving Atlantic Agriculture for over 40 years. He has worked in a number of capacities including as an extension specialist in the Tree Fruit sector and as the director of Horticulture and Biology Services of Nova Scotia Department of Agriculture and also as a research scientist with Agriculture and Agri-Food Canada in Tree Fruit Physiology.
Mr. Embree began working with the Nova Scotia Department of Agriculture and was the tree fruit specialist from 1963 until 1978. Some of his efforts during this period were in orchard modernization, bulk bin assistance, refrigerated containers, tree fruit census, co-author of the Orchard Outlook and many other development efforts with the Nova Scotia Fruit Growers Association.
Mr. Embree also was involved in administration of the Horticulture & Biology Branch, first as assistant director and then director (1978-1982). Some of his initiatives undertaken at this time were the establishment of the Historic Gardens in Annapolis Royal (administrative leadership in co-operation with the Annapolis Royal Business Development Commission) and the Blueberry Institute. Both of these continue today to benefit the public and growers.
In 1982 Mr. Embree moved to Agriculture and Agri-Food Canada to become a research scientist in the area of tree fruit physiology, where he continues his work for the betterment of the tree fruit industry, not only in the Atlantic region but also the rest of Canada. He has been the lead author or co-author on 60 peer reviewed scientific papers and 125 technical bulletins and fact sheets. He presently is involved with a number of projects to improve apple quality and annual yields.
Mr. Embree is also involved in International efforts in agriculture related to tree fruit. He has a medal of recognition from the International Society for Horticultural Science for organizing the first Symposium on Organic Applies and Pears. He is the reference coordinator for the US regional research committee, known as North Central Regional Research and a member of the CGC United States Germplasm Committee and the North East Plant Growth Regulator working group.
Charlie, as he is known to his friends, has always maintained his ties to NSAC and has been an adjunct professor since 1988, giving lectures on propagation and apple production technologies. He also has mentored many NSAC students and a number of grad students. Not only have apple growers in Nova Scotia benefitted from Mr. Embree's work but growers in NB, PEI, Maine and other areas have been educated through talks on fruit production at their annual producer meetings.
Mr. Embree has been honored by many of his professional and industry organizations including the Nova Scotia Institute of Agrologists as Distinguished Life Member, NSFGA Honorary Life Member and NSFGA Golden Apple Award. He has served as Director and President of NSIA, Director of Agricultural Institute of Canada, Director of Canadian Society of Horticultural Science, Director of NSFGA. He was recently recognized by the NSAC Alumni Association with its Distinguished Alumnus Award.
Most recently Mr. Embree has been appointed to the NS Food Council - a committee which discusses production, health, security, research, environment and other food related issues.
For more than 40 years Charlie has worked for the improvement of agriculture in Nova Scotia particularly in the tree fruit sector. He is recognized as leader and educator to several generations of fruit growers for his work to improve the tree fruit industry while he sharpens the science of fruit growing as a professional.
It is with great pleasure that we present Mr. Charles Embree with the Degree of Doctor of Laws, honoris causa.