Keith Condon

October 2010 Honorary Degree Recipient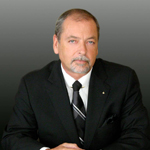 Doctor of Laws (honoris causa)
Nova Scotians, historically, have been international traders.  In the era of wooden ships, Nova Scotia merchants sailed the world buying and selling products in demand at home and abroad.  Today, export industries account for a sizable share of our provincial economy and every business analyst urges us to do more to seize the opportunities present in the Global economy.
As President and CEO of the Yarmouth, Nova Scotia – based Tri-Star Industries Limited, Keith Condon lives and builds on our global economy tradition.  Over the last thirty years he has built up his company into a world leader in the manufacture of ambulances and other specialty vehicles.
Keith Condon represents the essence of South Shore Nova Scotian initiative. After graduating from Shelburne Regional High School, the Annapolis Royal native joined the South Shore Gazette as production manager, eventually becoming sales manager and president, in addition to general manager, of Cameron Publications. 
He joined Tri-Star in 1979 and launched the international side of the business during a trade show in Baghdad. It was there that he secured the company's first international contract. Just two years later, he became President of Tri-Star and continued to develop international markets. In 1988, he co-purchased the company, becoming president and CEO. Today, Tri-Star exports vehicles to 45 countries worldwide. The company has designed and built everything from blood collection and organ transfer vehicles, to prison buses, police cars and even a bulletproof ambulance. Perhaps not surprisingly, the company has received nine export achievement awards
Mr. Condon's approach to his business involves bringing clients to Yarmouth where they tour Southwest Nova Scotia, including the 60,000 square foot facility where all Tri-Star vehicles are built. His goal is to show both his personal roots, and his company's roots.  "We don't try to just sell the ambulance, because then we'd be compared with everyone else," he has said. "We sell the package."
Following that Yarmouth visit, Mr. Condon and his team travel to the client's home country, often a developing nation, and prepare a customized assessment and recommendations for implementing pre-hospital emergency health systems. Then they help their clients create a vehicle that best fits their systems, infrastructure and needs.  Today, Tri-Star is ISO-certified and conducts business in Europe, the Middle East and Latin America, among other markets.
Dr. Ron Stewart, a Dalhousie professor emeritus and former Nova Scotia Minister of Health, has known Mr. Condon for 17 years. He cites Mr. Condon's "openness, honesty and ethical approach to his business dealings."
Mr. Condon and his business partner Mitch Bonner have expanded the Tri-Star group to include several businesses -- Tri-Star Industries Limited, Tri-Star International Marketing Services, Tri-Star Electronics, Tri-Star – AvidMedia, Whelen Canada, EHSolutions International, Chrystal Clear Water Services Limited, and even the Yarmouth Mariners Junior A hockey team.
Through his business success, Mr. Condon has been responsible for creating hundreds of jobs for Yarmouth families. He's combined that with considerable community volunteer work and leadership.
Mr. Condon is chair of the Yarmouth Airport Commission and co-chair of the new Yarmouth Arts Regional Council planning committee. A former president of the Yarmouth Chamber of Commerce and former chairman of the Nova Scotia Trade Council, he has sat on the board of governors of the IWK-Grace Health Centre, Dalhousie's Global Heath Office and Innovacorp. He is now on the board of directors of the Canadian Manufacturers Association and is an affiliate member of the Ambulance Services Institute in the United Kingdom.
His significant accomplishments have not gone un-noticed. In 1998, Mr. Condon was named Nova Scotia EXPORT Awards Entrepreneur of the Year. Two years ago, he was a nominee for the Ernst & Young Canadian Entrepreneur of the Year.
In addition to his business pursuits, Mr. Condon is a true world traveler, having visited more than 50 countries worldwide. Whether for business or pleasure, he relishes the opportunity to learn the history and cultures of each country he visits, and most recently, has developed a deep respect and love for Latin music and the Spanish language.
For his contributions and leadership in business and community -- locally, nationally and internationally -- I ask you, Mr. Chancellor, in the name of the Senate, to bestow on Keith Condon, the degree of Doctor of Laws, honoris causa.