Brad Barton

Spring 2023 Honorary Degree Recipient
Doctor of Laws (honoris causa)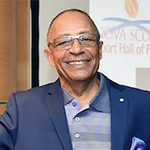 Brad Barton knew he wanted to teach from the time he was a teenager and over the past 60 years few individuals can claim to have had a more positive impact on Nova Scotia's school systems. From his own experience attending a segregated school to his work in classrooms and the provincial Department of Education, Mr. Barton has transformed the way our schools welcome and support African Nova Scotian learners and, indeed, students from all corners of this province.
Born and raised in Jordantown, Digby County, Mr. Barton began teaching at Allan W Evans/Nelson Whynder Elementary School in North Preston, fresh out of high school before even completing his teaching certification. In the years since, he has been a principal at the elementary, junior high and high school levels, and has held several senior administrative positions including Supervisor of Schools and Supervisor & Coordinator of Race Relations, Cross-cultural Education and Human Rights. In these roles and others, he has been instrumental in creating and leading initiatives to increase accessibility and improve outcomes for African Nova Scotian learners. He is a lifetime member of the Canadian Education Association and a past president of the National Council of Black Educators in Canada. 
Mr. Barton has left a lasting legacy in the sporting world as a volleyball coach, official and administrator. He officiated at two Olympic Games, one PanAm Games, three World Student Games and a World Championships. He is the first Black Canadian to become an internationally rated volleyball referee. Mr. Barton has received numerous awards, including the Queen Elizabeth II Diamond Jubilee Medal, the Order of Nova Scotia and induction into the Nova Scotia Sport Hall of Fame.