Mary Deacon
Spring 2021 Honorary Degree Recipient
Doctor of Laws (honoris causa)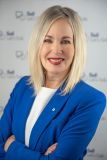 Mary Deacon is a conversation starter. As the architect and Chair of the Bell Let's Talk mental health initiative, she has created the world's largest conversation on mental health and the largest-ever corporate initiative of its kind in Canada. Since its launch 11 years ago, the campaign has raised over $120 million dollars to support mental health initiatives. In partnership with more than 1,100 organizations, that funding has helped more than four and a half million Canadians access to mental health services. Through Ms. Deacon's leadership, the campaign has led to a significant shift in Canada's perception and attitudes about mental health while supporting new mental health research, establishing workplace best practices, improving care and access, and empowering Canadians to combat the stigma around mental illness.
The conversation around mental health is one that Ms. Deacon herself has engaged in with honesty and authenticity. She was a new mother early in her career as a fundraiser when she faced the heartbreaking loss to suicide of her 25-year-old brother David, a medical school student who had hidden his mental health struggles from his family. In the aftermath, Ms. Deacon recognized her own undiagnosed depression and anxiety. Twelve years later, she lost her second brother, Ted, to suicide as well. Her experiences led her to focus her philanthropic work in the field of mental health. She was the inaugural President of the Centre for Addiction and Mental Health Foundation, where for over a decade she raised funds to support the ground-breaking research and programs of Canada's largest mental health hospital. There, and later at Bell Let's Talk, Ms. Deacon established a reputation as a connector and collaborator, skilled at bringing together funders, mental health service organizations and governments to develop innovative programs that transform mental health care services and increase access.
In this visionary role, Ms. Deacon has been a catalyst. Her efforts have advanced mental health awareness, acceptance and action for Canadians of all ages, backgrounds and walks of life. Here in Atlantic Canada, the Bell Let's Talk campaign has supported the Strongest Families Institute to expand mental health programs for children, youth and their families. It has funded research on innovative treatments for depression at Nova Scotia Health. It has supported the North End Community Health Association in providing mental health services to African Nova Scotians. On the national level, this year has marked the launch of a new Bell Let's Talk Post-Secondary Fund. This fund will support Canadian colleges and universities in implementing the National Standard of Canada for Mental Health and Well-Being for Post-Secondary Students, a psychological health and safety standard initiated and developed under Ms. Deacon's leadership.
For her significant accomplishments, Ms. Deacon has been honoured by her alma mater, the University of Guelph, where she earned her Bachelor of Arts degree, as well as by Wilfrid Laurier University. She holds a Queen Elizabeth II Diamond Jubilee Medal and has been named to the Top 100 Canada's Most Powerful Women list. A member of the World Economic Forum's Global Agenda Council on Mental Health, in 2019 she was named to the Order of Canada.