John Buchanan
Spring 2021 Honorary Degree Recipient
Doctor of Laws (honoris causa)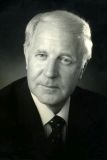 A master political campaigner. Nova Scotia's longest-serving Conservative premier. A dedicated member of numerous service organizations. Cape Bretoner. Champion of Nova Scotia's Acadian population. Hospital builder. Canadian constitution repatriater. Advocate of this province's energy self-sufficiency. Husband of Mavis, father of five, grandfather of 10. Storyteller and down-to-earth charmer. Senator. There are many ways to describe the late Honourable John Buchanan, but perhaps they are all well captured with these three words: "Proud Nova Scotian." Today, Dalhousie is proud to honour that proud Nova Scotian with a posthumous honorary degree.
John Buchanan was born in Sydney, Cape Breton, one of five children of Murdoch and Flora Buchanan. He worked at the Sydney Steel Plant as he pursued his Bachelor of Science in Engineering at Mount Allison University. Following his graduation in 1954, he studied metallurgy at the Nova Scotia Technical College before studying law here at Dalhousie, graduating in 1958. He practiced law in Halifax and was director of the Legal Aid Society for five years. But John Buchanan is best known for his life in politics: elected in 1967 in the provincial government of Robert Stanfield, he embarked on the path that would see him spend the rest of his career in service as an elected provincial politician and later an appointed federal Senator. 
John Buchanan was renowned for his personal warmth and ability to connect with voters. It was often remarked that he was late for events because he stopped to talk to so many people on his way in, and then was the last to leave because he lingered in conversation until the final guest departed. With his wife Mavis at his side, he campaigned across this province, winning four elections as premier before departing provincial politics for a Senate appointment. There, he served his province and his country for a further 16 years. 
During his time in office, John Buchanan placed a priority on controlling domestic energy costs and positioning Nova Scotia for greater energy self-sufficiency, tapping traditional energy sources while seeking to develop new ones such as piloting tidal electricity with the first tidal power plant in North America at the Annapolis Basin in 1984. He was a champion of Nova Scotia's Acadian population, promoting francophone school boards and education rights and the delivery of government services in French in Acadian communities. When Canada sought to repatriate its constitution in 1982, Premier Buchanan was one of the "Gang of Eight" premiers whose advocacy for provincial powers resulted in the inclusion of the "notwithstanding" clause in the Charter of Rights and Freedoms. 
John Buchanan has been recognized for his contributions to this province and this country by many, including five previous honourary degrees. He was the recipient of the Canadian Centennial Medal, the 125th Anniversary of the Confederation of Canada Medal and the Queen Elizabeth II Golden Jubilee Medal. In 1972, he became a Member of Her Majesty's Queen's Counsel, and in 1982, along with the other Canadian premiers who participated in the negotiations for patriation of the Canadian Constitution, he was made a Member of Her Majesty's Privy Council.