Josh Leon
Assistant Vice-President, Information Technology Services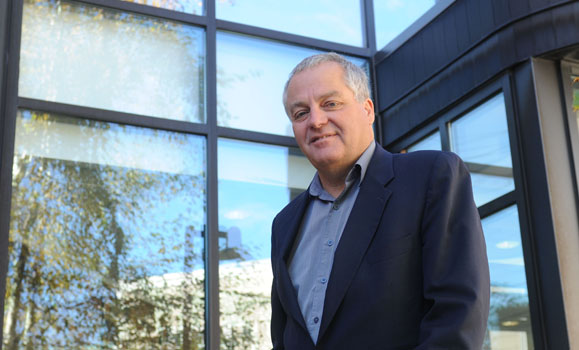 Josh Leon remembers sitting in the Killam basement in 1975, looking in awe at a computer that took up a large portion of the room. He was an undergraduate math student, and it was the height of high technology. He would go on to spend many days working there in the computer lab — a lab consisting of one giant computer.

"That thing was amazing to everyone," he says.
 
Forty-three years later, he's still in the Killam basement, but with far more advanced technology and a far more complex role. But as Chief Information Officer and Assistant Vice-President of Information Technology Services, he is still completely focused, and completely dependent, on high-performance technology.

"Engineers are very data driven in how we look at things. We're methodical problem solvers."
"The systems were always important," he says. "From second year undergrad, when I took a programming course, my whole career has been dependent on computers working."

Now he's the guy who makes sure they do. "Back then there were only a few of us using them; now the need for good information technology is ubiquitous."

Dalhousie runs in the family

Even before his undergrad, Leon felt like part of the Dal family. Many of his relatives, his mother in particular, had gone to Dal.  He did all three of his degrees here, including an MSc in Mathematics (1982) and his PhD in Biophysics (1988).  

After his PhD, Leon spent 15 years teaching in the biomedical and electrical engineering departments at Ecole Polytechnique de Montreal, and five years at University of Calgary where he was a professor and head of the Department of Electrical and Computer Engineering. He was thrilled to return to Dal in 2005 as Dean of Engineering.

"It's a very friendly place," he says. "Really it felt just like coming home. And Dal puts such value on academic excellence. It was a thrill to see it was still as important as when I was a student."

Perhaps unsurprisingly, with those high academic standards came, "great colleagues in the engineering department, fantastic professors I enjoyed working with, outstanding staff, and excellent students."

The biggest change he noticed was the growth. "The university had probably doubled in size. You do notice that." But other than the size, it felt like the same institution as it approached its 200th year.

During that year, there was an opening for his current position. He spoke with Ian Nason, VP of Finance and Administration, who he'd always enjoyed working with, about the role.  Nason encouraged him to apply. The fresh challenge was appealing, yet the role seemed up his alley.

"I've spent my career involved with information technology, as an engineering professor I know the value of strong IT support throughout the university."

Considering technology's future

Unlike his days with the 1975 mega-computer, these days no university can operate without its technology systems. Every university function, from registering students to recording grades to getting staff and faculty paid, is digitized.  

Leon is the man behind the monitors, making sure his team are helping keep teaching labs are up to date, facilitating the creation of world-class facilities for students, and designing systems to ensure complete wireless coverage.

"They are great professionals," he says. "It's been a pleasure getting to know them."

If your team is that strong, leadership is relatively easy. But, "a good leader knows where you need to go." In technology, that means being prepared for constant, rapid change. It also means saying yes more often than saying no: "encourage staff to have good ideas, then get behind those ideas."

Leon's goal for Dal is that it remains at the leading edge of technology. In this task he leans on his background in engineering —  not just from a technical perspective but in systematically foreseeing, understanding and solving problems.

"Engineers are very data driven in how we look at things," he says. "We're methodical problem solvers."

As such, he easily lists a set of big-picture priorities. The first is security, protecting sensitive data like human resources and student records. "Universities are a challenge because they need to be open to community and students, but at the same time we have a duty to keep things secure."

Another big project is one he expects no one will notice, but that is incredibly important: a complete refresh of networks across campus.

"We're updating to the latest generation of network gear, which allows us to deal with new online security threats," as well as physical security issues like automated door-lock systems and the use of security cameras and monitors.
On success…
"In IT, you know you're doing a good job when no one notices you're there."   
On managing change…

"Technological change happens so quickly, and industry has a vested interest in phasing out old things. We're constantly fighting built in obsolescence in technology. You always have to be looking ahead and measuring costs of new tech versus the benefits, compared to other priorities like labs and staffing."

On meeting students' technology needs…
"I know how frustrating it was as a student when things didn't work and I needed to finish an assignment. Fortunately, I'm confident our team can keep the lights on."
Five questions
When you were a student, what was your favourite course?
Math 100 and Math 101; first year calculus.

What's your favourite hobby or pastime?
Sailing, skiing and woodworking.

If you could only bring one artist's music with you to a desert island, who would it be?

Max Stalling (country singer-songwriter).
What's the best advice you've ever received?
Never play cards with a man named Doc. And don't eat at a place called Mom's.

If you could have dinner with one person — living, deceased or fictional — who would it be and why?
My wife, Jill.