David Anderson
Dean, Faculty of Medicine

Dr. David Anderson became Dalhousie University's 13th dean of medicine on July 1, 2015.

Born and raised in Halifax, Dr. Anderson graduated from Dalhousie Medical School in 1983. He completed an internal medicine residency at Dalhousie and went on to McMaster University for additional training in hematology. While studying at McMaster, he held a research fellowship in thromboembolic disease.

In 1992, Dr. Anderson returned to Nova Scotia. He joined the QEII Health Sciences Centre (QEII HSC) as a staff hematologist and Dalhousie Medical School as an assistant professor.
Not long before deanship, Dr. Anderson was head and district chief of the Dalhousie's Department of Medicine. Under his watch, the Department of Medicine developed a strategic plan that lead to major new initiatives in clinical care, education and research.
"I love meeting with many people who have diverse and integral roles here at the medical school; they're proud of all that we're achieving, and are committed to making us as successful as we can be."
"Although I'm a Dalhousie Medical School grad (Class of '83), and have worked in a variety of roles over the years, I continue to be impressed by the scope and the complexity of the work that goes on here. I love meeting with many people who have diverse and integral roles here at the medical school; they're proud of all that we're achieving, and are committed to making us as successful as we can be."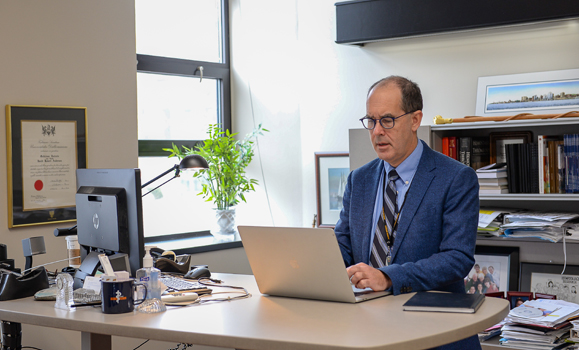 An accomplished teacher and mentor, Dr. Anderson has been a member of countless university and hospital committees. He's also worked with the Nova Scotia Department of Health and Wellness – as clinical advisor for the Nova Scotia Blood Program and in the development of the new academic funding plan (AFP) process for clinical departments.

In addition to his responsibilities as dean, Dr. Anderson maintains his clinical practice at the QEII HSC.

"I think it has been important for me as Dean to maintain a clinical practice.  Seeing patients in my weekly clinic has enabled me to keep up my skills as a hematologist.  It also is challenging and fun to stay engaged with patient care and to teach residents and students.  Being on call is more of a challenge. Great colleagues and residents have made this very feasible for me as well."

With more than 150 peer-reviewed publications to his name, Dr. Anderson's contributions to research have led to national and international recognition. He's a founding member and former chair of the VECTOR Research Group, a multi-centre Canadian collaborative team focused on studying blood clotting disorders that, to date, has received more than $50 million in funding. He's also chaired the Department of Medicine's research committee for nearly 10 years, and was appointed Dalhousie Medical School's assistant dean of clinical research in 2010.

A competitive tennis player and family man, he's married to Michelle Karis. Together, they have three children: Phillip, Deanne and Karis. 
On celebrating 150 years of medical education…
"Our 150th anniversary was a busy and productive year and I am grateful we could celebrate our tremendous accomplishments alongside of Dalhousie's bicentennial. Throughout 2018, we celebrated not only 150 years of excellence in education, research and service in Maritime Canada, we also recognized our pioneers who have accomplished well-known medical achievements that have revolutionized medicine to present day. On top of that, our DalMed150 Anniversary Celebration Weekend was a huge success — the perfect way to cap off a year of remembering and celebrating the past, and imagining and committing to a better future just like the founders of Dalhousie Medical School 150 years ago! It was a pleasure to be able to come together and celebrate the memories, experiences and achievements of our school."
On building momentum in an age of information…

"This ability to see the big picture and share our vision about the importance of our work within it is a crucial skill for the scientists of today and tomorrow. Putting research findings into action is the key to forward progress. This includes translating evidence into continuing professional development programs so that practicing clinicians are up to speed with the latest advances. We live in a world that is rich with information but requires an overlay of meaning to make sense of the endless flow of data. If we can find a way to add this meaning, so that the people outside the scientific community can share in the excitement of discovery and possibility, then we have done something even bigger. And when our discoveries make their way along the path from discovery to application to beneficial results, the satisfaction is enormous."

On building educational excellence…
"The medical school is innovating across all of its research and education programs with the clear vision to develop the next outstanding generation of leading scientists and clinicians. I am very proud of the successful accreditation reviews of our undergraduate medical education programs and our continuing professional development programs, including our recent preliminary, though positive, results of our postgraduate programs. All have received enthusiastic feedback from the reviewers, thanks to the dedicated efforts of our faculty and staff."

On partnering with communities for improved health outcomes…
"We're committed to working with community partners including other faculties at Dalhousie, the Nova Scotia Health Authority, the IWK, Horizon Health in New Brunswick and government. This is really quite a unique situation; to have this degree of collaboration in the Maritime provinces and to be able to put our research into clinical practice and see its impact in the relative short term. It is the opportunity to do internationally renowned research while at the same time doing research to improve the health of the people of the Maritimes. It also offers us opportunities to work with partners in our industry and to innovate around new advances concerning healthcare delivery."

Five questions
What's your favourite hobby or pastime?
I enjoy sports – particularly tennis.

If you could only bring one artist's music with you to a desert island, who would it be?
Neil Young.

If you were to leave academia and go into any career you wanted, what would you choose?

Medical practice.
Who is a mentor or leader that's inspired you in your life or career?
My father.
If you could have dinner with one person — living, deceased or fictional — who would it be and why?
My wife. Time is precious. Would choose to spend it with the love of my life.