Alice Aiken
Vice-President Research and Innovation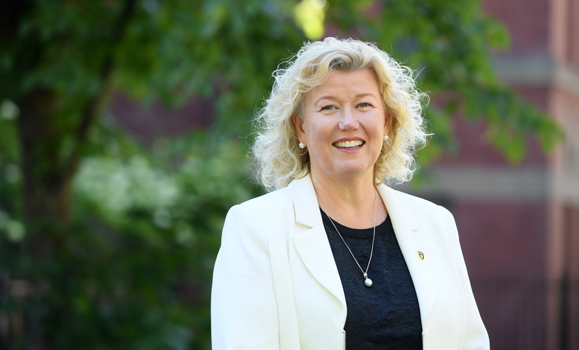 When Alice Aiken made her way back to Dalhousie University in 2016, she was returning to familiar turf. While she grew up in Ottawa, the youngest of six children to immigrant parents, she completed a Bachelor of Science in Physiotherapy at Dal in 1994.

"The Royal Canadian Navy sent me," she says of her first Dal experience as a student.

She'd joined the military before starting her first science degree at University of Ottawa in 1984, served from 1984 until 1998,  and was posted in Halifax as a ship's navigator. That military experience helped inspire her academic research, which focuses on health services and policies for military personnel, Veterans and their families.

After leaving the Forces, Dr. Aiken spent 18 years with the School of Rehabilitation Therapy at Queen's University, first managing their physiotherapy clinic and being a clinical teacher full time, while she did her master's and PhD degrees part time. She later became a faculty member, and built a pan-Canadian research network focused on military and Veteran health research from the ground up.

Returning to Dal in 2016, in a leadership position this time as Dean of the Faculty of Health, she found constant reminders that the university's researchers aren't motivated just by their own ambitions or research goals, but by the desire to do good for the entire region.
It was really great to come back 22 years later. I had been away long enough that I'd forgotten the collaborative spirit of the East Coast and Dalhousie. That's our greatest strength.
She now brings that collaborative spirit into her work as vice-president, research & innovation (VPRI), and it's been central in the development of the university's new research and innovation strategic direction — fittingly named Impact Together. It's designed to ensure Dal continues to grow research and innovation on campus and be a vibrant part of the U15 Group of Canadian research universities.

"Everybody came to the table together," says Dr. Aiken of the process to develop the strategic direction. "They're all excited by the work we're doing collectively, and they want to be part of the greater good."

Her role as VPRI requires managing many partnerships with stakeholders in the private and public sectors. And it means finding ways to empower students and faculty as researchers, innovators and creators and helping them make an impact on local and global challenges — a theme that resonates, for example, within the Dal Innovates initiative.

"Essentially my job is to create an environment so that everyone can do their best possible research," Dr. Aiken says. "That means putting in place supports and information and building a culture that supports people in believing they can find new opportunities and achieve excellence."

As a leader, Dr. Aiken draws on her military background. "In the military you're taught to be about team and about mission," she says. "It's not about you. That's really important in the academy."

One and a half years into the role as VPRI, Dr. Aiken is enjoying it immensely. "I love research. It's exciting to see what brilliant ideas people will come up with." And that focus on the broader community remains. "We framed our strategic direction in the UN sustainable development goals for 2030. This way people can see themselves in the larger whole."

The Dal community can expect to hear more from Dr. Aiken as she works to build on Dal's recent successes like the Ocean Frontier Institute (a $220-million international research collaboration) in fields like health care — through the Integrated Health Research and Innovation Strategy (IHRIS), a province-wide research and innovation strategy currently under development with the health authorites, government, industry and the public.
On the importance of education…
"My parents, who immigrated to this country, put a big premium on education to have a good life in Canada. I guess that stayed with me."
On being an academic…
"As professors we are so privileged. We get to train the next generation and also come up with ideas and research them for a living."
On the link between her leadership at Dal and her military background…
"To lead is to serve."
On what inspires her...
"We just found two new species in the soil that expand the tree of life! Adding a new branch to the tree of life, how exciting is that?"
On her hobbies…
"There are three passions I have outside of academia: yoga, reading, and riding my Harley."
Five Questions  
When you were a student, what was your favourite course?
Gross Anatomy at Dalhousie. I loved it. Dr. Bob Clattenburg was the professor — he made it fun because he was so passionate about the subject.
If you could only bring one artist's music with you to a desert island, who would it be?
Tom Waits or Diana Krall.
What's the best advice you've ever received?
One of my mentors said to me, "Imagine how much we would all accomplish if nobody needed to take the credit." Work for the team.
Who is a mentor or leader that's inspired you in your life or career?
Dr. Duncan Sinclair, Former Dean of Medicine at Queen's.
If you could have dinner with one person — living, deceased or fictional — who would it be and why?
Freddie Mercury. I love Queen's music and I think he was a genius. His old videos in the late '70s and '80s show he was bending gender stereotypes ahead of his time.