Accessibility at Dalhousie
Braille signs have been installed at every station in the dining area of Risley Hall. (Cody Turner)

Accessibility in action: Inside Dal's plan to build a better campus for all
Universities provide numerous pathways for learning, personal growth, and career development, yet for some individuals it's a journey hindered by obstacles. In some cases, barriers prevent physical movement. In others, they present daily challenges for learning effectively in a classroom or accessing a service efficiently. In all cases, they create unnecessary hardship and can strip individuals of valuable opportunities.
"Removing these barriers is key for equitable access to education, research, employment, and services," says Quenta Adams, Assistant Vice Provost, Student Engagement and Success at Dal and co-chair of the university's Accessibility Advisory Committee.
In 2022, Dalhousie accelerated its efforts to do just that when it released its first university-wide Accessibility Plan. The plan lays out a detailed roadmap for ensuring the university meets Nova Scotia's goal of being fully accessible by 2030, not just for people with visible disabilities but also those who struggle with invisible disabilities linked to mental health and neurodivergence.
In November, Dalhousie also launched a new annual initiative called Dalhousie Accessibility Week. The university's inaugural campaign, led by a team of students, staff and faculty, began on November 28 and ran until December 5, highlighting the International Day for Persons with Disabilities on December 3rd. Dal had a series of public events and initiatives throughout the week to raise awareness about the Accessibility Plan and accessibility at the university more generally.
During Accessibility Week, Dalhousie student Gabrielle Close shared her experience on campus with Dal News readers. She is a second-year psychology student. Gabrielle is blind.
"There has been a lot of effort on Dal's part to make this environment as accommodating as possible," she says. "That involves having accessible signage as well as implementing measures that allow me to receive assistance when it is needed in situations that might be a little bit more challenging for me.
"I just feel like anyone else. I don't have to place my entire focus navigating spaces that may be inaccessible, or worry about whether or not I can find something to eat in the dining hall, or whether or not I can find my room. Having signage in place and having supportive staff members is wonderful because it makes university life a much more enjoyable experience."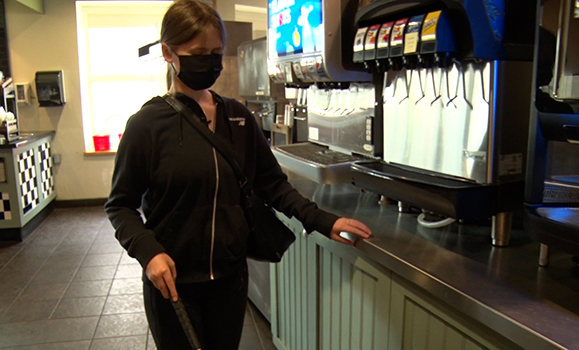 Student Gabrielle Close uses newly installed braille signs in Risley Hall. (Contributed)