2015‑2016
Every year, we recognize the Rams' incredible accomplishments at the Athletic Awards Banquet. Awards are presented for outstanding performances on and off the field of play.

Athletes of the Year
Thomas Henderson (woodsmen) and Emily Merks (soccer)  with Dr. Gray




Most Valuable Players


front left-right Luke MacKinnon (badminton), Craig MacEachern (soccer), Neel Amin (basketball), Thomas Henderson (woodsmen)
back left-right Jessie Swinamer (woodsmen), Hannah Arseneault (cross country), Thea McLachlin (volleyball), Emily Merks (soccer), Brette Holland (golf), Rebecca MacSwain (equestrian), Katie McQueen (rugby)

Contribution Award
Mason MacDonald


Coaches Choice Award


front left-right Sho Tamura (basketball), Murray Clements (woodsmen), Richard MacNevin (soccer), Ryland Murphy (badminton
back left-right Emily Sutherland (cross country), Sarah Mossman (woodsmen), Lindsay Scott (equestrian), Jill Bent (rugby), Janelle MacKeill (soccer), Kayla Wolfe (volleyball)

Most Improved Player Award


front left-right Cole Yuill (basketball), Jonathan Bent (soccer), Brendan Shaw (woodsmen), Nicolas Wentzell (cross country)
back left-right  Kelsey Henneberry (badminton), Eilish Conners (woodsmen), Melanie Wood (rugby), Chelsea Carree (volleyball), Angelique Dewaard (equestrian), Brette Holland (soccer)

Rookie Award


front left-right Kyle Corsten (woodsmen), Jan Meijer (soccer), Brian Sawler (basketball)
back left-right  Katelyn Jackson (equestrian), Caiti McCavour (badminton), Hannah Mawhinney (cross country),  Breanna Balcom (volleyball), Sian Rankin (soccer), Shannon Spencer (rugby), Emily Langille (woodsmen)

CCAA Academic All Canadians
Canadian Collegiate Athletic Association's most prestigious student-athlete award, epitomizing their mandate of recognizing excellence in academics and athletics.  To achieve this honour, a student-athlete must be named to his/her respective Conference All-Star teams (1st and 2nd) in a CCAA Sport, and must achieve a GPA standing of 3.7 or higher (honors average - 1st semester).


front left-right Emily Merks (soccer), Hannah Arseneault (cross country)

K.S. Marchant Award
Presented to the student athlete with highest GPA in Degree and Technology carrying a minimum of 4 courses, 1st semester.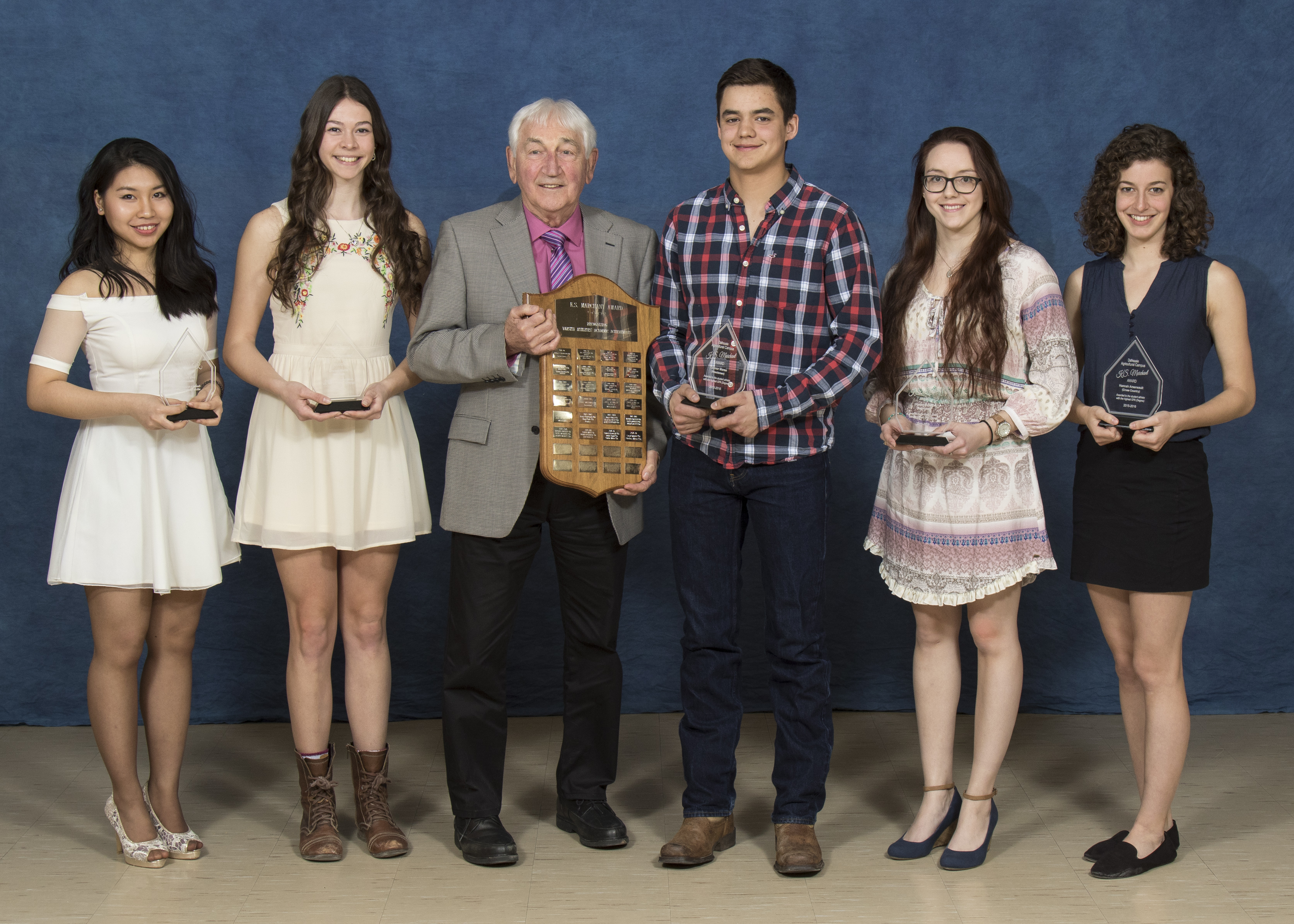 left-right Lucy Nguyen (badminton) Degree, Chelsea Carree (volleyball) Technical, Ken Marchant, Connor Morse (woodsmen) Degree, Jordan Bujold (badminton) Degree, Hannah Arseneault (cross country) Degree.

4th Year Athletes


front left-right Jessie Swinamer (woodsmen), Kamryn Findlay (woodsmen), Kaylee Little (rugby)
back left-right Janelle MacKeil (soccer), Josh Hamlin (soccer), Chris Morash (soccer)
missing:  Whitney Shaver (rugby)


5th Year Athletes
(picture coming)
Kayla Graham (woodsmen), Craig MacEachern (soccer), Brittany Green (soccer)

ACAA All Conference - Soccer - 2015-16


left to right Sian Rankin, Craig MacEachern, Richard MacNevin, Emily Merks 


ACAA Gerry LeBlanc Award - Cora Sharp




ACAA All Conference - Rugby - 2015-16


left to right Jill Bent, Katie McQueen

ACAA All Conference - Cross Country - 2015-16
and ACAA Runner of the Year


Hannah Arseneault
ACAA All Conference Volleyball

Thea McLachlin



ECHO CHALLENGE WINNER and CILA MVP
Woodsmen - Thomas Henderson



DAL AC All Academic Athletes
Athletes who have demonstrated excellence in academics and athletics, achieving GPA of 3.7 or above for "honors" and a position on a varsity team (1st semester)

Badminton
Ryland Murphy
Jordan Bujold
Lucy Nguyen
Caiti McCavour
Rugby
Jillian Bent
Arin Douglas
Sarah Levesque
Melissa Mammoliti
Kaylee Little
Katie McQueen
Shannon Spencer
Jocelyn Manley
Soccer
Rachel Hirtle
Emily Merks
Laura Groves
Jonathan Bent
Patrick Belliveau
Alexis Barrister
Todd Myette
Volleyball
Breanna Balcom
Chelsea Carree
Woodsmen
Rachel Bekkers
Kyle Corsten
Thomas Henderson
Devin Holmes
Riley Kilfoil
Daniel McCallum
Connor Morse
Melissa Baxter
Melanie Bos
Kamryn Findlay
Emily Langille
Mandy Smith
Jaylene Woodworth
Cross Country
Hannah Arseneault
Equestrian
Lindsay Scott
Kayla Watton
Haley Greenbank
Reina Fennell
Golf
Lindsay Cameron
CCAA National Scholars 2015-16
Honors average over academic year and participate in CCAA Sport
Badminton:
Ryland Murphy
Jordan Bujold
Lucy Nguyen
Caitlin McCavour
Cross Country:
Hannah Arseneault
Golf:
Brett Holland
Soccer:
Rachel Hirtle
Emily Merks
Laura Groves
Jonathan Bent
Patrick Belliveau
Todd Myette
Al Loureiro
Volleyball:
Breanna Balcom
Chelsea Carree
Jackie McClelland